Book a Seer:
If you want to meet a seer for a private consultation, either in person or by phone, or if you want to book one or more seer's  to a company-event or other kind of festivity that would be enhanced by the presence of a seer
contact Rosie on jolandatarot@gmail.com alt. call 0739-33 07 77
Or Mme Oili: jattuoili@hotmail.com alt. call 0704-65 88 08

Learn more about the art of Magic!
Tap into Chronicles of Magic updated on a regular basis. Each Chronicle has a link to Herstoria , which consists of short stories from Rose's personal life, connected with the shamanic teachings in the Chronicles.

Book a Lecture:
Meet one of the most renowned seer's in Sweden, Rosie Björkman a.k.a. Jolanda the Third, also professor in the Art of Magic.
Some of the contents in the lecture: Brief history. Forn-nordic mythology. Ancient Cultures. Indigenous People. Magic. The Oracle. Art of scrying. Tarot-cards. Runes. A.s.f.

In the second half of the lecture the audience will be invited to ask personal questions, and Rose get's the opportunity to demonstrate her abilities as a seer.
Rosie's first witch hat!

Let the Jolanda School of Magic come to you!
Gather 7 – 20 people, find a place to have a workshop, and Rose will come flying!

The witch hat!
If you always dreamed of having a witch-hat of your own,
your wish can now come true.
Decide what colors and which symbols you want on your hat, and mail your order.
Around three weeks after your order you can pick your new, very special,
custom-made hat up at the post-office

Guided visit to the Tower:
Meet the witch in the tower on Bluehill and get a unique experience.
Gather your friends/coworkers, and come for a visit an afternoon or evening.

Jolanda talks about her research in different indigenous belief-systems
and how she has woven the magic knowledge into the interior decoration in the tower.

The inspiring and creative atmosphere lifts the participants ability to free thinking. The ceiling is lofty in a sense that is both literal and spiritual.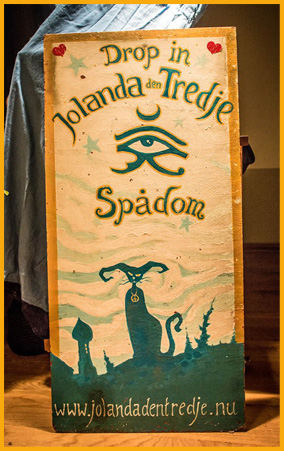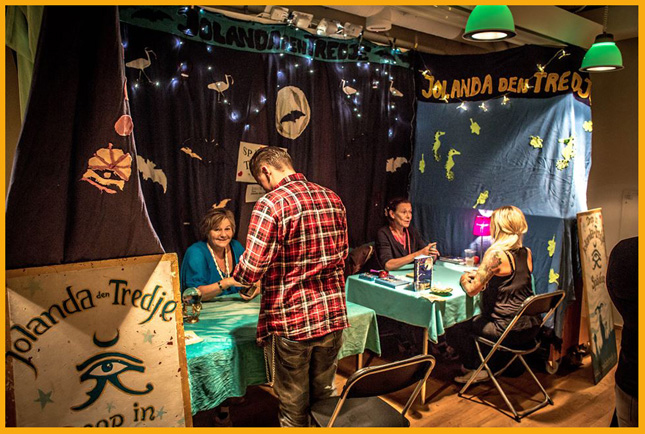 For information and/or booking: jolandatarot@gmail.com